1st Transdisciplinary Dialogue:
Neuroaesthetics and Cognitive Poetics
6-7 June 2014
The research group of NeuroHumanitieStudies Project is proud to announce the 1st Transdisciplinary Meeting about Neuroaesthetics and Cognitive Poetics in Catania. The meeting will focus on the dialogue between Prof. Semir Zeki and Prof. Michael Burke.
Visit the website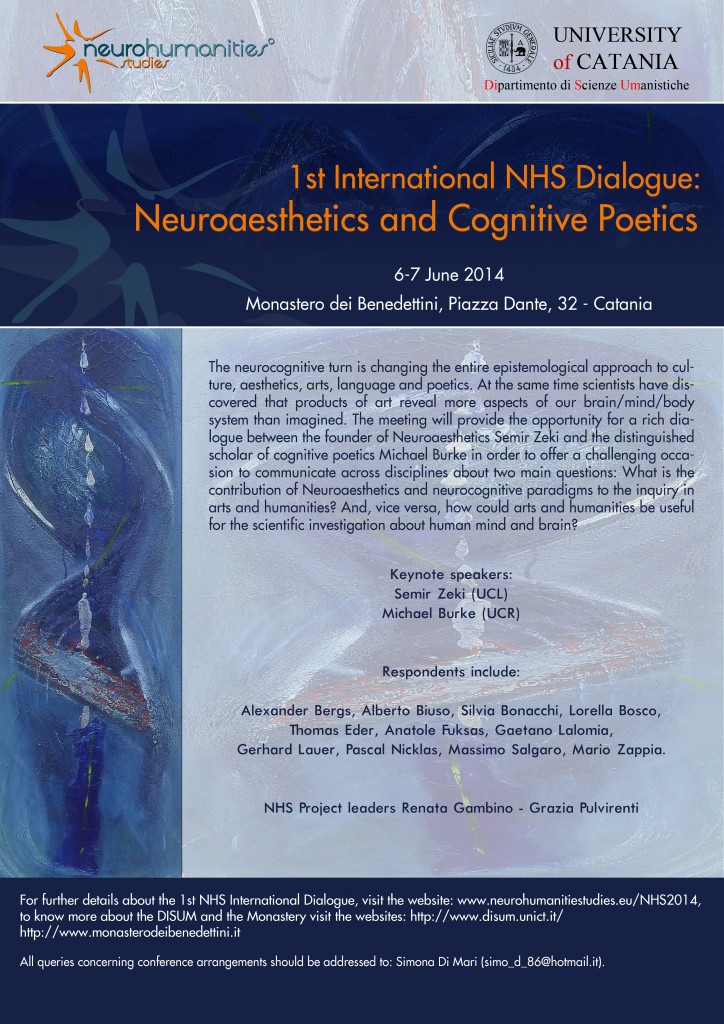 Michael Burke is professor of rhetoric at the Humanities Faculty of UCR, Utrecht University  in Netherlands. His research interests range from rhetoric to neuroscience. He is member of several international projects about pedagogical stylistics, cognitive literary science and rhetorical pedagogy. Chair of the international Poetics and Linguistics Association (PALA) and member of many other research associations. His recent book, Literary Reading Cognition and Emotion: An Exploration of Oceanic Mind (2011) has broken a new path in the linguistic research field.
http://www.ucr.nl/about-ucr/Faculty-and-Staff/Academic-Core/Pages/Prof–Dr–Michael-Burke.aspx
Semir Zeki  is a British neurobiologist who has specialized in studying the primate visual brain and more recently the neural correlates of affective states, such as the experience of love, desire and beauty that are generated by sensory inputs within the field of neuroesthetics. Professor of Neurobiology, since 2008 he is professor of Neuroestetics at UCL, his last three books, A Vision of the Brain (1993), Inner Vision: an exploration of art and the brain (1999); Splendors and Miseries of the Brain (2009) have opened the way to a new trans-disciplinary approach to art fruition and brain functions.
For further info please contact:
Simona Di Mari (simo_d_86@hotmail.it)
Prof. Renata Gambino (renatagambino@gmail.com)