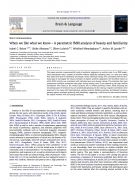 Last paper:
Arthur M. Jacobs, Isabel C. Bohrn, Ulrike Altmann, Oliver Lubrich, Winfried Menninghaus, When we like what we know – A parametric fMRI analysis of beauty and familiarity
This paper presents a neuroscientific study of aesthetic judgments on written texts. In an fMRI experiment participants read a number of proverbs without explicitly evaluating them. In a post-scan...

Read More
Peer review
Partner program
Project
The Neuro Humanities Studies Network aims at creating a multidisciplinary research community in order to develop and structure a linking platform for neuro-scientific, cognitive topics and humanities.
---
Click on each keyword to show papers related with it.