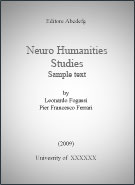 Last paper:
Grazia Pulvirenti, Renata Gambino, Neurohermeneutics. A Transdisciplinary Approach to Literature
Peer review
Partner program
Mark Johnson, Steve Larson,
"Something in the Way She Moves" : Metaphors of Musical Motion
Source: Metaphor and Symbol
Topics: Metaphor;
Disciplines: Fine Arts;
DOWNLOAD PAPER
Download size: 15.46 MB
Our most fundamental concepts of musical motion and space, used by laypeople and music theorists alike, are defined by conceptual metaphors that are based on our experience of physical motion. We analyze the 3 most important metaphors of musical motion: the "MOVING MUSIC." metaphor, the "MUSICAL LANDSCAPE" metaphor, and the "MOVING FORCE" metaphor. We show how each metaphor is grounded in a particular basic experience of physical motion and physical forces and how the logic of physical motion shapes the logic of musical motion. We suggest that our conceptualization of, discourse about, and even our experience of musical motion depend on the logic of these 3 metaphors.
Project
The Neuro Humanities Studies Network aims at creating a multidisciplinary research community in order to develop and structure a linking platform for neuro-scientific, cognitive topics and humanities.
---
Click on each keyword to show papers related with it.