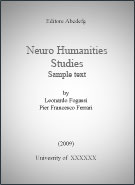 Last paper:
Grazia Pulvirenti, Renata Gambino, The paradox of Romantic ekphrasis. Metacritic discourse, perception and imagination in art descripti
Ekphrasis is a text genre based on the intertwining of visual and verbal features, involving the processes of both reading, and priming a visual image or a related action. We argue in this study that...

Read More
Peer review
Partner program
Papers by Warning: Missing argument 6 for pubblicazione::filtra(), called in /web/htdocs/www.neurohumanitiestudies.eu/home/wp-content/themes/neuhums/autore.php on line 42 and defined in /web/htdocs/www.neurohumanitiestudies.eu/home/lib/ninive_core.php on line 166

Evan Thompson, Look again: Phenomenology and Mental Imagery 2007.

Evan Thompson, Neurodynamics of Consciousness 2006.

Evan Thompson, Sensorimotor subjectivity and the enactive approach to experience 2005.

Evan Thompson, Are There Neural Correlates of Consciousness? 2004.
Project
The Neuro Humanities Studies Network aims at creating a multidisciplinary research community in order to develop and structure a linking platform for neuro-scientific, cognitive topics and humanities.
---
Click on each keyword to show papers related with it.