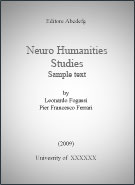 Last paper:
Grazia Pulvirenti, Renata Gambino, The paradox of Romantic ekphrasis. Metacritic discourse, perception and imagination in art descripti
Ekphrasis is a text genre based on the intertwining of visual and verbal features, involving the processes of both reading, and priming a visual image or a related action. We argue in this study that...

Read More
Peer review
Partner program
Anjan Chatterjee, Bianca Bromberger, Rebecca Sternschein, Page Widick, William Smith,
The Assessment of Art Attributes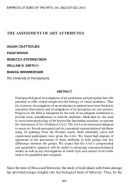 Year: 2010
DOWNLOAD PAPER
Download size: 299.52 KB
Neuropsychological investigations of art production and perception have the potential to offer critical insight into the biology of visual aesthetics. Thus far, however, investigations of art production in patients have been limited to anecdotal observations and investigations of art perception are non-existent. Progress in the field is hampered by the lack of an adequate instrument to provide basic quantification of artwork attributes. Motivated by the need to move neuropsychology of art beyond the fascinating anecdote, we present the Assessment of Art Attributes (AAA). The AAA is an instrument designed to assess six formal-perceptual and six conceptual-representational attributes using 24 paintings from the Western canon. Both artistically naïve and experienced participants were given the AAA. We found high degrees of agreement in the assessment of these attributes in both groups and few differences between the groups. We expect that the AAA's componential and quantitative approach will be useful in advancing neuropsychological studies as well as any investigations in which style and content of art works need to be quantified and compared.
Project
The Neuro Humanities Studies Network aims at creating a multidisciplinary research community in order to develop and structure a linking platform for neuro-scientific, cognitive topics and humanities.
---
Click on each keyword to show papers related with it.