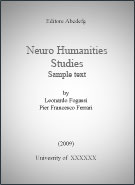 Last paper:
Grazia Pulvirenti, Renata Gambino, The paradox of Romantic ekphrasis. Metacritic discourse, perception and imagination in art descripti
Ekphrasis is a text genre based on the intertwining of visual and verbal features, involving the processes of both reading, and priming a visual image or a related action. We argue in this study that...

Read More
Peer review
Partner program
Anjan Chatterjee,
Neuroaesthetics: A Coming of Age Story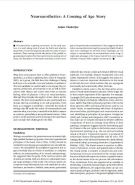 Source: Journal of Cognitive Neuroscie
Year: 2010
DOWNLOAD PAPER
Download size: 183.18 KB
Neuroaesthetics is gaining momentum. At this early juncture, it is worth taking stock of where the field is and what lies ahead. Here, I review writings that fall under the rubric of neuroaesthetics. These writings include discussions of the parallel organizational principles of the brain and the intent and practices of artists, the description of informative anecdotes, and the emergence of experimental neuroaesthetics. I then suggest a few areas within neuroaesthetics that might be pursued profitably. Finally, I raise some challenges for the field. These challenges are not unique to neuroaesthetics. As neuroaesthetics comes of age, it might take advantage of the lessons learned from more mature domains of inquiry within cognitive neuroscience.
Project
The Neuro Humanities Studies Network aims at creating a multidisciplinary research community in order to develop and structure a linking platform for neuro-scientific, cognitive topics and humanities.
---
Click on each keyword to show papers related with it.