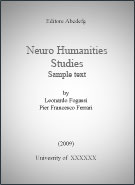 Last paper:
Grazia Pulvirenti, Renata Gambino, The paradox of Romantic ekphrasis. Metacritic discourse, perception and imagination in art descripti
Ekphrasis is a text genre based on the intertwining of visual and verbal features, involving the processes of both reading, and priming a visual image or a related action. We argue in this study that...

Read More
Peer review
Partner program
David S. Miall,
Literary Discourse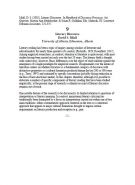 Source: Handbook of Discourse Processe
Year: 2002
DOWNLOAD PAPER
Download size: 187.43 KB
Literary reading has been a topic of inquiry among scholars of literature and educationalists for nearly three quarters of a century (Richards, 1929; Rosenblatt, 1937). Among empirical researchers, in contrast, attention to literature is quite recent, with most studies having been carried out only over the last 20 years. The literary field is fraught with controversy, however. Basic differences over the object of study militate against the emergence of a single paradigm for empirical research. Disagreement over the nature of literature centers on whether literature is a fundamental category of discourse with distinctive properties or a cultural formation produced during the last 200 or 300 years (e.g., Terry, 1997) and sustained by specific conventions (possibly facing extinction in the face of new electronic media). In this chapter, therefore, although it is possible to elaborate a number of specific components of literary reading that have been studied empirically, at the present stage of research a coherent account of literary discourse remains out of reach.
Project
The Neuro Humanities Studies Network aims at creating a multidisciplinary research community in order to develop and structure a linking platform for neuro-scientific, cognitive topics and humanities.
---
Click on each keyword to show papers related with it.