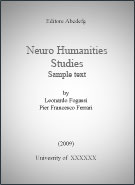 Last paper:
Grazia Pulvirenti, Renata Gambino, Neurohermeneutics. A Transdisciplinary Approach to Literature
Peer review
Partner program
David S. Miall,
Anticipation and Feeling in Literary Response: A Neuropsychological Perspective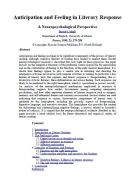 Source: Poetics
Year: 1995
Topics: Emotion; Cognition;
Disciplines: Literature;
DOWNLOAD PAPER
Download size: 239.89 KB
Anticipation and feeling are taken to be significant components of the process of literar reading, although cognitive theories of reading have tended to neglect them. Recent neuropsychological research is described that casts light on these processes: the paper focuses on the integrative functions of the prefrontal cortex responsible for anticipation and on the contribution of feeling to the functions of the right cerebral hemisphere. It is shown how feelings appear to play a central role in initiating and directing the interpretive activities involved in such complex activities as reading. In particular, a key feature of literary texts that captures and directs response is foregrounding, that is, distinctive stylistic features: these defamiliarize and arouse feeling. Such responses are likely to be mediated by the right hemisphere, which is specialized to process novelty. An analysis of the neuropsychological mechanisms implicated in response to foregrounding suggests how readers discriminate among competing interpretive possibilities, and how other important elements of literary response such as imagery, memory, and self-referential themes and concerns are recruited. Several studies are cited indicating that response to various characteristic components of literary texts is mediated by this hemisphere, including the prosodic aspects of foregrounding, figurative language, and narrative structure. This hemisphere also provides the context for elaborating and contextualizing negative feelings, a process related to Aristotle's notion of catharsis. It is argued that the neuropsychological evidence sketched in this paper provides a more reliable basis for future theoretical and empirical studies of literary reading.
Project
The Neuro Humanities Studies Network aims at creating a multidisciplinary research community in order to develop and structure a linking platform for neuro-scientific, cognitive topics and humanities.
---
Click on each keyword to show papers related with it.