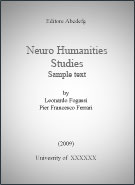 Last paper:
Grazia Pulvirenti, Renata Gambino, The paradox of Romantic ekphrasis. Metacritic discourse, perception and imagination in art descripti
Ekphrasis is a text genre based on the intertwining of visual and verbal features, involving the processes of both reading, and priming a visual image or a related action. We argue in this study that...

Read More
Peer review
Partner program
Mark Turner, Gilles Fauconnier,
Blending as a central process of grammar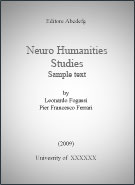 Year: 1998
Topics: Blending;
Disciplines: Linguistics;
DOWNLOAD PAPER
Download size: 629.37 KB
This is an expanded web version of Fauconnier and Turner. 1996. "Blending as a Central Process of Grammar" in Conceptual Structure, Discourse, and Language. Edited by Adele Goldberg. Stanford: Center for the Study of Language and Information (CSLI) [distributed by Cambridge University Press]. Pages 113-129. This expanded version consists of the original article, additional diagrams for the caused motion construction that were edited from the original article to save space, and an additional section on the ditransitive construction, which is excerpted from Turner and Fauconnier, in press, A Mechanism of Creativity Poetics Today.
Project
The Neuro Humanities Studies Network aims at creating a multidisciplinary research community in order to develop and structure a linking platform for neuro-scientific, cognitive topics and humanities.
---
Click on each keyword to show papers related with it.