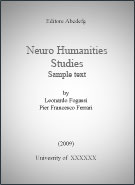 Last paper:
Grazia Pulvirenti, Renata Gambino, Neurohermeneutics. A Transdisciplinary Approach to Literature
Peer review
Partner program
Evan Thompson,
Look again: Phenomenology and Mental Imagery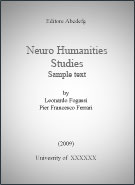 Year: 2007
Topics: Consciousness; Cognition;
Disciplines: Phenomenology;
DOWNLOAD PAPER
Download size: 3.15 MB
This paper (i) sketches a phenomenological analysis of visual mental imagery; (ii) applies this analysis to the mental imagery debate in cognitive science; (iii) briefly sketches a neurophenomenological approach to mental imagery; and (iv) compares the results of thi discussion with Dennett's heterophenomenology. keywords: Cental imagery, consciousness, phenomenology, neurophenomenology, heterophenomenology
Project
The Neuro Humanities Studies Network aims at creating a multidisciplinary research community in order to develop and structure a linking platform for neuro-scientific, cognitive topics and humanities.
---
Click on each keyword to show papers related with it.