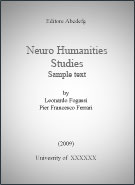 Last paper:
Grazia Pulvirenti, Renata Gambino, Neurohermeneutics. A Transdisciplinary Approach to Literature
Peer review
Partner program
Daniel Casasanto, Katinka Dijkstra ,
Motor Action and Emotional Memory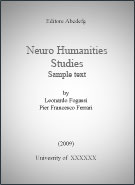 Topics: Embodied Mind; Emotion; Metaphor;
DOWNLOAD PAPER
Download size: 186.45 KB
Can simple motor actions affect how efficiently people retrieve emotional memories, and influence what they choose to remember? In Experiment 1, participants were prompted to retell autobiographical memories with either positive or negative valence, while moving marbles either upward or downward. They retrieved memories faster when the direction of movement was congruent with the valence of the memory (upward for positive, downward for negative memories). Given neutral-valence prompts in Experiment 2, participants retrieved more positive memories when instructed to move marbles up, and more negative memories when instructed to move them down, demonstrating a causal link from motion to emotion. Results suggest that positive and negative life experiences are implicitly associated with schematic representations of upward and downward motion, consistent with theories of metaphorical mental representation. Beyond influencing the efficiency of memory retrieval, the direction of irrelevant, repetitive motor actions can also partly determine the emotional content of the memories people retrieve: moving marbles upward (an ostensibly meaningless action) can cause people to think more positive thoughts. Keywords: Autobiographical memory, Embodied cognition, Emotion, Language production, Motor action, Metaphor
Project
The Neuro Humanities Studies Network aims at creating a multidisciplinary research community in order to develop and structure a linking platform for neuro-scientific, cognitive topics and humanities.
---
Click on each keyword to show papers related with it.