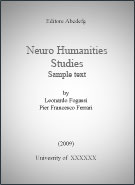 Last paper:
Grazia Pulvirenti, Renata Gambino, The paradox of Romantic ekphrasis. Metacritic discourse, perception and imagination in art descripti
Ekphrasis is a text genre based on the intertwining of visual and verbal features, involving the processes of both reading, and priming a visual image or a related action. We argue in this study that...

Read More
Peer review
Partner program
Mark Turner,
The Scope of Human Thought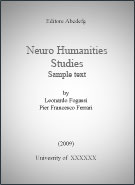 Year: 2009
DOWNLOAD PAPER
Download size: 186.08 KB
Biologically, we resemble other animals, but mentally, we leave them in the dust. The scope of human thought is vast. Why are we so different? This think-piece explores the scope of human thought, its possible origins, and the mental operations that make it possible. Keywords: Conceptual integration, blending, primate, mental time-travel, Tulving, Damasio, Neisser, explanation, prediction, brain imaging, brain mapping, neurophysiology, image schemas, art, norms, niches, culture
Project
The Neuro Humanities Studies Network aims at creating a multidisciplinary research community in order to develop and structure a linking platform for neuro-scientific, cognitive topics and humanities.
---
Click on each keyword to show papers related with it.