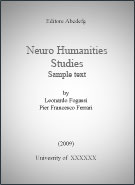 Last paper:
Grazia Pulvirenti, Renata Gambino, The paradox of Romantic ekphrasis. Metacritic discourse, perception and imagination in art descripti
Ekphrasis is a text genre based on the intertwining of visual and verbal features, involving the processes of both reading, and priming a visual image or a related action. We argue in this study that...

Read More
Peer review
Partner program
Vittorio Gallese, David Freedberg,
Motion, emotion and empathy in esthetic experience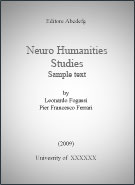 Year: 2007
Topics: Emotion; Empathy;
Disciplines: Fine Arts;
DOWNLOAD PAPER
Download size: 575.33 KB
The implications of the discovery of mirroring mechanisms and embodied simulation for empathetic responses to images in general, and to works of visual art in particular, have not yet been assessed. Here, we address this issue and we challenge the primacy of cognition in responses to art. We propose that a crucial element of esthetic response consists of the activation of embodied mechanisms encompassing the simulation of actions, emotions and corporeal sensation, and that these mechanisms are universal. This basic level of reaction to images is essential to understanding the effectiveness both of everyday images and of works of art. Historical, cultural and other contextual factors do not preclude the importance of considering the neural processes that arise in the empathetic understanding of visual artworks.
Project
The Neuro Humanities Studies Network aims at creating a multidisciplinary research community in order to develop and structure a linking platform for neuro-scientific, cognitive topics and humanities.
---
Click on each keyword to show papers related with it.