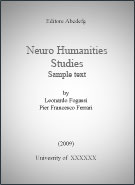 Last paper:
Grazia Pulvirenti, Renata Gambino, Neurohermeneutics. A Transdisciplinary Approach to Literature
Peer review
Partner program
Arthur M. Jacobs,
Neurocognitive poetics: methods and models for investigating the neuronal and cognitive-affective ba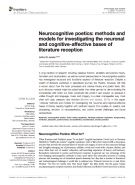 Source: Frontiers in Human Neuroscienc
Year: 2015
Disciplines: Literature;
DOWNLOAD PAPER
Download size: 1.39 MB
A long tradition of research including classical rhetoric, esthetics and poetics theory, formalism and structuralism, as well as current perspectives in (neuro)cognitive poetics has investigated structural and functional aspects of literature reception. Despite a wealth of literature published in specialized journals like Poetics, however, still little is known about how the brain processes and creates literary and poetic texts. Still, such stimulus material might be suited better than other genres for demonstrating the complexities with which our brain constructs the world in and around us, because it unifies thought and language, music and imagery in a clear, manageable way, most often with play, pleasure, and emotion (Schrott and Jacobs, 2011). In this paper, I discuss methods and models for investigating the neuronal and cognitive-affective bases of literary reading together with pertinent results from studies on poetics, text processing, emotion, or neuroaesthetics, and outline current challenges and future perspectives.
Project
The Neuro Humanities Studies Network aims at creating a multidisciplinary research community in order to develop and structure a linking platform for neuro-scientific, cognitive topics and humanities.
---
Click on each keyword to show papers related with it.