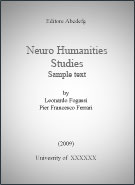 Last paper:
Grazia Pulvirenti, Renata Gambino, Neurohermeneutics. A Transdisciplinary Approach to Literature
Peer review
Partner program
Grazia Pulvirenti, Renata Gambino,
Imagination as Poetics of Cognition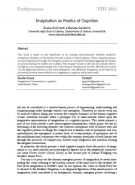 Source: Enthymema, 8
Year: 2013
Topics: Embodied Mind; Cognition;
Disciplines: Literature;
DOWNLOAD PAPER
Download size: 315.06 KB
Our work is based on the hypothesis of an existing interconnection between symbolic-metaphoric elements of the literary text and a series of mind patterns. These compress percep-tion and experience through the emergent process of conceptual blending triggering the seman-tic process during the creative act of poiesis. This enquiry focuses on the use of a peculiar rhetor-ical figure in an exemplary literary text of the famous German poet Goethe. We will try to point out the allegorical function of the scene dedicated to the «Mothers' Kingdom», in his Faust II, as a powerful poetical meta-reflection on imagination, cognition and poetics itself.
Project
The Neuro Humanities Studies Network aims at creating a multidisciplinary research community in order to develop and structure a linking platform for neuro-scientific, cognitive topics and humanities.
---
Click on each keyword to show papers related with it.