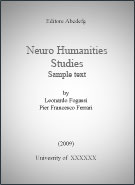 Last paper:
Grazia Pulvirenti, Renata Gambino, The paradox of Romantic ekphrasis. Metacritic discourse, perception and imagination in art descripti
Ekphrasis is a text genre based on the intertwining of visual and verbal features, involving the processes of both reading, and priming a visual image or a related action. We argue in this study that...

Read More
Peer review
Partner program
Peter Stockwell,
The Metaphorics of Literary Reading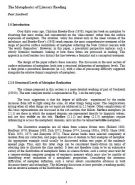 Year: 2000
Topics: Metaphor;
Disciplines: Linguistics;
DOWNLOAD PAPER
Download size: 201.13 KB
Over thirty years ago, Christine Brooke-Rose (1958), began her book on metaphor by observing that most studies had concentrated on the 'idea-content' rather than the surface expression of metaphors. The situation today has altered only in the sheer volume of the imbalance, and Brooke-Rose's (1958) work remains the most comprehensive treatment of the range of possible surface realizations of metaphor reflecting the New Critical concern with 'the words themselves'. However, in this paper, a procedural perspective replaces such a strictly formalist treatment, looking at how these forms are processed in reading. This approach in itself renders less distinct the line between a formalist and a conceptual treatment. The design of the paper reflects these concerns. The discussion in the next section of surface realizations of metaphors leads into a structural delineation of metaphoric levels. This is then given a procedural dimension (in 4.2), with a cline of processing difficulty suggested alongside the relative formal complexity of metaphors.
Project
The Neuro Humanities Studies Network aims at creating a multidisciplinary research community in order to develop and structure a linking platform for neuro-scientific, cognitive topics and humanities.
---
Click on each keyword to show papers related with it.