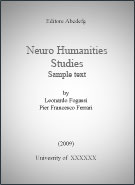 Last paper:
Grazia Pulvirenti, Renata Gambino, Neurohermeneutics. A Transdisciplinary Approach to Literature
Peer review
Partner program
Uriah Kriegel,
A Hesitant Defense of Introspection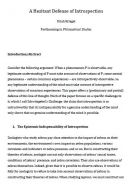 Source: Philosophical Studies 165
Year: 2013
Topics: Consciousness; Cognition;
Disciplines: Phenomenology;
DOWNLOAD PAPER
Download size: 158.15 KB
Consider the following argument: When a phenomenon P is observable, any legitimate understanding of P must take account of observations of P; some mental phenomena – certain conscious experiences – are introspectively observable; so, any legitimate understanding of the mind must take account of introspective observations of conscious experiences. This paper offers a (preliminary and partial) defense of this line of thought. Much of the paper focuses on a specific challenge to it, which I call Schwitzgebel's Challenge: the claim that introspection is so untrustworthy that its indispensability for a genuine understanding of the mind only shows that no genuine understanding of the mind is possible.
Project
The Neuro Humanities Studies Network aims at creating a multidisciplinary research community in order to develop and structure a linking platform for neuro-scientific, cognitive topics and humanities.
---
Click on each keyword to show papers related with it.