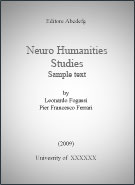 Last paper:
Grazia Pulvirenti, Renata Gambino, The paradox of Romantic ekphrasis. Metacritic discourse, perception and imagination in art descripti
Ekphrasis is a text genre based on the intertwining of visual and verbal features, involving the processes of both reading, and priming a visual image or a related action. We argue in this study that...

Read More
Peer review
Partner program
Uriah Kriegel,
Intentional Inexistence and phenomenal intentionality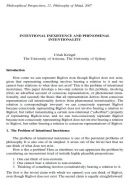 Source: Philosophical Perspectives
Year: 2007
Topics: Consciousness;
Disciplines: Phenomenology;
DOWNLOAD PAPER
Download size: 190.13 KB
How come we can represent Bigfoot even though Bigfoot does not exist, given that representing something involves bearing a relation to it and we cannot bear relations to what does not exist? This is the problem of intentional inexistence. This paper develops a two-step solution to this problem, involving (first) an adverbial account of conscious representation, or phenomenal inten- tionality, and (second) the thesis that all representation derives from conscious representation (all intentionality derives from phenomenal intentionality). The solution is correspondingly two-part: we can consciously represent Bigfoot because consciously representing Bigfoot does not involve bearing a relation to Bigfoot, but rather instantiating a certain non-relational ("adverbial") property of representing Bigfoot-wise; and we can non-consciously represent Bigfoot because non-consciously representing Bigfoot does not involve bearing a relation to Bigfoot, but rather bearing a relation to conscious representations of Bigfoot
Project
The Neuro Humanities Studies Network aims at creating a multidisciplinary research community in order to develop and structure a linking platform for neuro-scientific, cognitive topics and humanities.
---
Click on each keyword to show papers related with it.