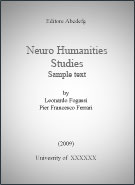 Last paper:
Grazia Pulvirenti, Renata Gambino, The paradox of Romantic ekphrasis. Metacritic discourse, perception and imagination in art descripti
Ekphrasis is a text genre based on the intertwining of visual and verbal features, involving the processes of both reading, and priming a visual image or a related action. We argue in this study that...

Read More
Peer review
Partner program
John Smythies,
Space, Time and Consciousness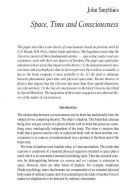 Source: Journal of Consciousness Studi
Year: 2003
Topics: Consciousness;
Disciplines: Anthropology;
DOWNLOAD PAPER
Download size: 70.6 KB
This paper describes a new theory of consciousness based on previous work by C.D. Broad, H.H. Price, Andrei Linde and others. This hypothesis states that the Universe consists of three fundamental entities — space-time, matter and consciousness, each with their own degrees of freedom. The paper pays particular attention to three areas that impact on this theory: (1) the demonstration by neuroscience and psychophysics that we do not perceive the world as it actually is but as the brain computes it most probably to be; (2) the need to delineate between phenomenal space-time and physical space-time. Recent theories in physics that suggest that the Universe has more than three spatial dimensions are relevant here; (3) the role of consciousness in the block Universe described by Special Relativity. The integration of these topics suggests a new physical theory of the nature of consciousness.
Project
The Neuro Humanities Studies Network aims at creating a multidisciplinary research community in order to develop and structure a linking platform for neuro-scientific, cognitive topics and humanities.
---
Click on each keyword to show papers related with it.