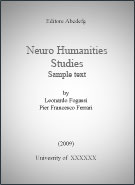 Last paper:
Grazia Pulvirenti, Renata Gambino, The paradox of Romantic ekphrasis. Metacritic discourse, perception and imagination in art descripti
Ekphrasis is a text genre based on the intertwining of visual and verbal features, involving the processes of both reading, and priming a visual image or a related action. We argue in this study that...

Read More
Peer review
Partner program
Michael L. Anderson,
Embodied Cognition: A Field Guide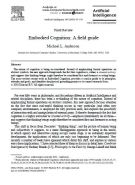 Year: 2003
DOWNLOAD PAPER
Download size: 293.2 KB
The nature of cognition is being re-considered. Instead of emphasizing formal operations on abstract symbols, the new approach foregrounds the fact that cognition is, rather, a situated activity, and suggests that thinking beings ought therefore be considered first and foremost as acting beings. The essay reviews recent work in Embodied Cognition, provides a concise guide to its principles, attitudes and goals, and identifies the physical grounding project as its central research focus.  2003 Elsevier B.V. All rights reserved.
Project
The Neuro Humanities Studies Network aims at creating a multidisciplinary research community in order to develop and structure a linking platform for neuro-scientific, cognitive topics and humanities.
---
Click on each keyword to show papers related with it.