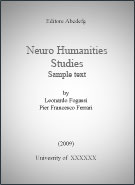 Last paper:
Grazia Pulvirenti, Renata Gambino, The paradox of Romantic ekphrasis. Metacritic discourse, perception and imagination in art descripti
Ekphrasis is a text genre based on the intertwining of visual and verbal features, involving the processes of both reading, and priming a visual image or a related action. We argue in this study that...

Read More
Peer review
Partner program
David S. Miall,
Foregrounding and feeling in response to narrative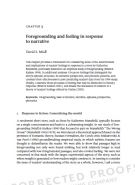 Source: In Sonia Zyngier, Marisa Bort
Year: 2008
DOWNLOAD PAPER
Download size: 241.07 KB
This chapter provides a framework for considering some of the determinants and implications of readers' feelings in response to a story by Katherine Mansfield, previously featured in an empirical study of foregrounding (Miall & Kuiken 1994). In additional analyses I focus on feelings that distinguish the story's episodic structure, its narrative perspective, and phonetic patterns, and consider their effectiveness in post-predicting readers' data from the 1994 study. Finally, I examine those processes of feeling that may be distinctive to literary response (Miall & Kuiken 2001), and situate the discussion in relation to a theory of readers' feelings offered by Oatley (2002). Keywords: foregrounding, laws of emotion, narrative, episodes, perspective, phonetics
Project
The Neuro Humanities Studies Network aims at creating a multidisciplinary research community in order to develop and structure a linking platform for neuro-scientific, cognitive topics and humanities.
---
Click on each keyword to show papers related with it.