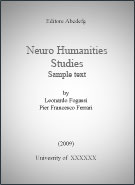 Last paper:
Grazia Pulvirenti, Renata Gambino, The paradox of Romantic ekphrasis. Metacritic discourse, perception and imagination in art descripti
Ekphrasis is a text genre based on the intertwining of visual and verbal features, involving the processes of both reading, and priming a visual image or a related action. We argue in this study that...

Read More
Peer review
Partner program
David S. Miall,
"Too soon transplanted" - Coleridge and the forms of dislocation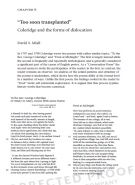 Source: In Willie van Peer, Ed., The Q
Year: 2008
DOWNLOAD PAPER
Download size: 266.36 KB
In 1797 and 1798 Coleridge wrote two poems with rather similar topics, "To the Rev. George Coleridge" and "Frost at Midnight." The first is largely unread while the second is frequently and repeatedly anthologized, and is generally considered a significant part of the canon of English poetry. As a "Conversation Poem" the second seems to invite the participation of the reader; in the first, in contrast, the reader remains an observer. An analysis of the sound patterns and structure of the poems is undertaken, which shows how the poems differ at the formal level in a number of ways. Unlike the first poem, the feelings evoked in the reader by "Frost" invite self-referential exploration. It is argued that this process typifies literary works that become canonical.
Project
The Neuro Humanities Studies Network aims at creating a multidisciplinary research community in order to develop and structure a linking platform for neuro-scientific, cognitive topics and humanities.
---
Click on each keyword to show papers related with it.