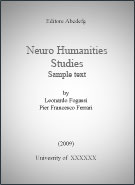 Last paper:
Grazia Pulvirenti, Renata Gambino, The paradox of Romantic ekphrasis. Metacritic discourse, perception and imagination in art descripti
Ekphrasis is a text genre based on the intertwining of visual and verbal features, involving the processes of both reading, and priming a visual image or a related action. We argue in this study that...

Read More
Peer review
Partner program
Steven R. Livingstone, Caroline Palmer, Emery Schubert,
Emotional Response to Musical Repetition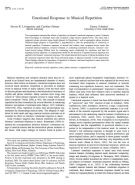 Source: Emotion, Vol. 12
Year: 2011
DOWNLOAD PAPER
Download size: 893 KB
Two experiments examined the effects of repetition on listeners' emotional response to music. Listeners heard recordings of orchestral music that contained a large section repeated twice. The music had a symmetric phrase structure (same-length phrases) in Experiment 1 and an asymmetric phrase structure (different-length phrases) in Experiment 2, hypothesized to alter the predictability of sensitivity to musical repetition. Continuous measures of arousal and valence were compared across music that contained identical repetition, variation (related), or contrasting (unrelated) structure. Listeners' emotional arousal ratings differed most for contrasting music, moderately for variations, and least for repeating musical segments. A computational model for the detection of repeated musical segments was applied to the listeners' emotional responses. The model detected the locations of phrase boundaries from the emotional responses better than from performed tempo or physical intensity in both experiments. These findings indicate the importance of repetition in listeners' emotional response to music and in the perceptual segmentation of musical structure. Keywords: emotional arousal, repetition, music, phrase structure, computational model
Project
The Neuro Humanities Studies Network aims at creating a multidisciplinary research community in order to develop and structure a linking platform for neuro-scientific, cognitive topics and humanities.
---
Click on each keyword to show papers related with it.