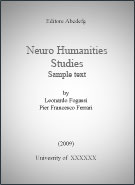 Last paper:
Grazia Pulvirenti, Renata Gambino, The paradox of Romantic ekphrasis. Metacritic discourse, perception and imagination in art descripti
Ekphrasis is a text genre based on the intertwining of visual and verbal features, involving the processes of both reading, and priming a visual image or a related action. We argue in this study that...

Read More
Peer review
Partner program
William L. Benzon,
The Evolution of Narrative and the Self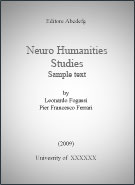 Source: Journal of Social and Evolutio
Year: 1993
Pages: 1993
DOWNLOAD PAPER
Download size: 210.08 KB
Narratives bring a range of disparate behavioral modes before the conscious self. Preliterate narratives consist of a loose string of episodes where each episode, or small group of episodes, displays a single mode. With literacy comes the ability to construct long narratives in which the episodes are tightly structured so as to exhibit a character's essential nature. Complex strands of episodes are woven together into a single narrative, with flashbacks being common. The emergence of the novel makes it possible to depict personal growth and change. Intimacy, a private sphere of sociality, emerges as both a mode of experience depicted within novels and as a mode in which people read novels. The novelist constructs a narrator to structure experience for reorganization.
Project
The Neuro Humanities Studies Network aims at creating a multidisciplinary research community in order to develop and structure a linking platform for neuro-scientific, cognitive topics and humanities.
---
Click on each keyword to show papers related with it.