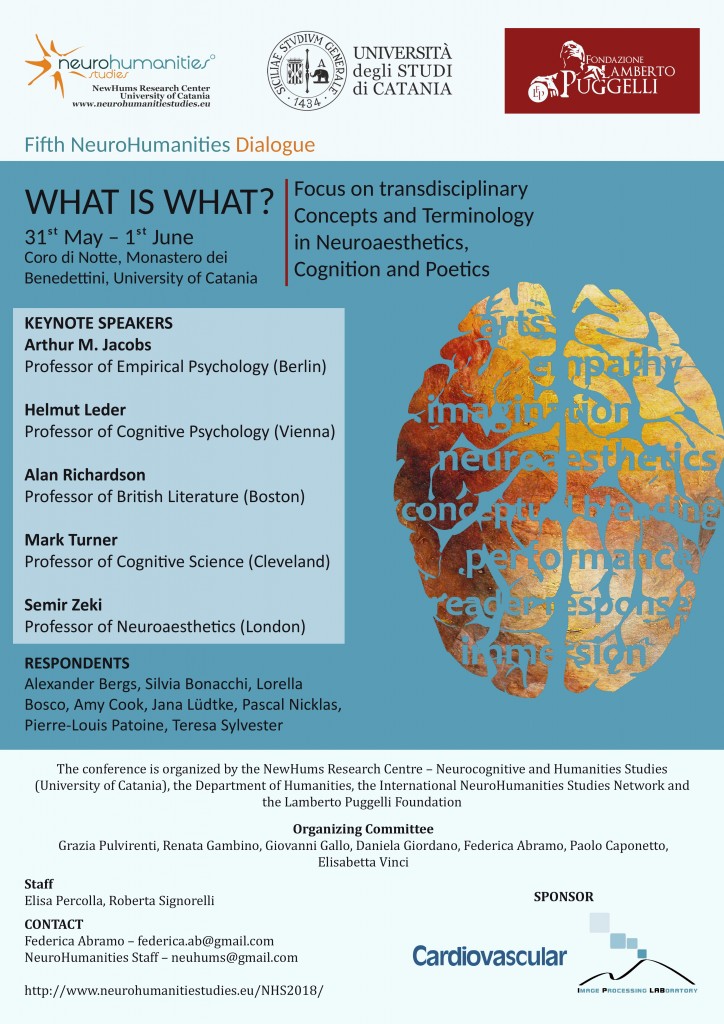 What is the meeting point between Science and Humanities?
How can common conceptual and lexical frameworks improve transdisciplinary research?
We are very pleased to announce that our fifth Neurohumanities Dialogue What is What? Focus on transdisciplinary concepts and terminology in Neuroaesthetics, Cognition and Poetics will take place in Catania, on 31st May and 1st June.
The aim of this year Dialogue is to focus on the terminological difficulties encountered during transdisciplinary research studies. Thanks to and due to the continuous discussion of the last years on the terms to be used in the scientific research, the project of a common ground for literary texts and arts analysis is feasible. What better occasion than a transdisciplinary and international Dialogue?
Different personalities will propose current studies and original points of view with the purpose of setting a possible common frame of terms and categories for future research.
Some of the brightest research leaders will give their contribution: Mark Turner, Alan Richardson, Semir Zeki, Arthur M. Jacobs and Helmut Leder.
Furthermore, other relevant specialists like Amy Cook, Pascal Nicklas, Pierre-Louis Patoine, Alexander Bergs, Silvia Bonacchi, Jana Lüdtke and Teresa Sylvester will partecipate and feed the debate.
For more information:
http://www.neurohumanitiestudies.eu/NHS2018/