26th Meeting of the International Society for the History of the Neurosciences, Rome (Italy) June 14-18, 2022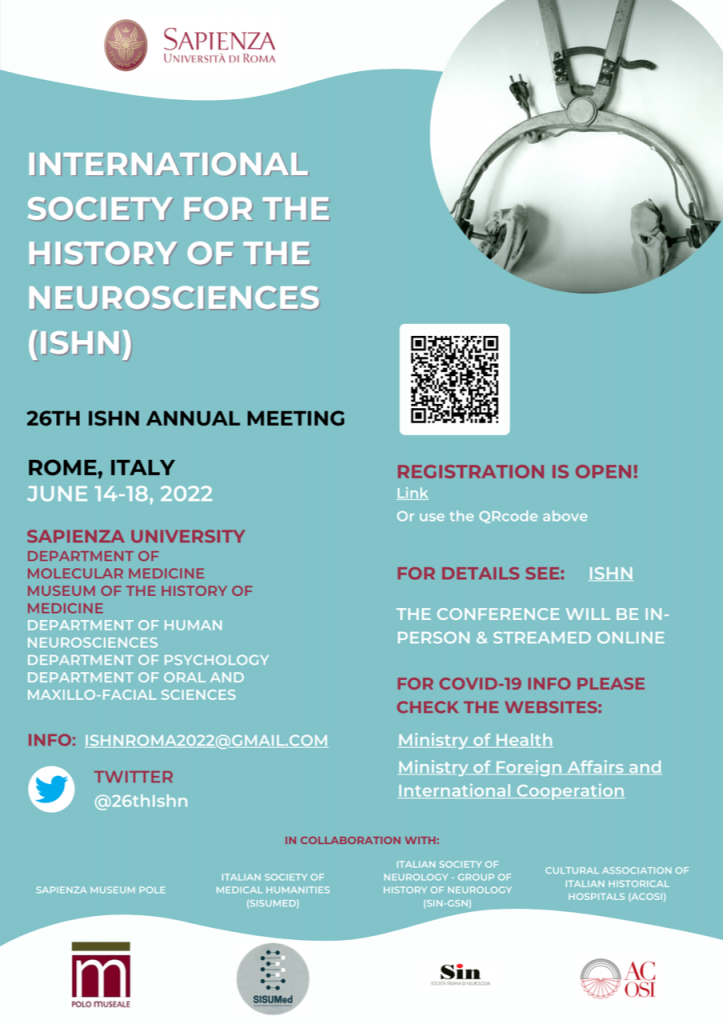 Il 26° Meeting della Società Internazionale per la Storia delle Neuroscienze (ISHN) si terrà a Roma (Italia) dal 14 al 18 giugno 2022.
Il convegno è organizzato dal Museo di Storia della Medicina, Dipartimento di Medicina Molecolare, Sapienza Università di Roma in collaborazione con il Polo Museale e i Dipartimenti di Psicologia, Neuroscienze Umane e Scienze Odontostomatologiche e Maxillo-Facciali di Sapienza e in collaborazione con la Società Italiana di Scienze Umane in Medicina (SISUMed), Associazione Culturale Ospedali Storici Italiani (ACOSI) e Gruppo di Storia della Neurologia della Società Italiana di Neurologia (SIN-GSN)
La conferenza si svolgerà presso l'Università La Sapienza di Roma, l'Orto Botanico di Roma e l'Ospedale Santo Spirito in Sassia.
La conferenza sarà in presenza e trasmessa online, previa iscrizione.
Quote di registrazione scontate fino al 15 maggio 2022.
Programma preliminare scaricabile 
qui
Registrazione qui
Conference Twitter: @26thIshn
Referente scientifico: Elisabetta Sirgiovanni (Sapienza)
The 26th Meeting of the International Society for the History of Neurosciences (ISHN) will be held in Rome (Italy) on June 14-18, 2022.
The conference is organized by the Museum of the History of Medicine, Department of Molecular Medicine, Sapienza University of Rome in collaboration with the Museum Pole and the Sapienza Departments of Psychology, Human Neurosciences and Oral and Maxillo-Facial Sciences and in partnership with the Italian Society for Medical Humanities (SISUMed), Cultural Association for Italian Historical Hospitals (ACOSI), and Group for the History of Neurology of the Italian Society of Neurology (SIN-GSN).
The conference will take place at Sapienza University of Rome, Botanical Garden in Rome, and the Santo Spirito in Sassia Hospital.
The conference can be joined in-person and online upon registration.
Discounted fees are applicable until May 15, 2022.
A preliminary program is downloadable 
here
Link to registration here
Conference Twitter: @26thIshn
Local Chair: Elisabetta Sirgiovanni (Sapienza)